ABOUT US

Going to a racetrack? Want to know where to eat? SpeedEats.com is your source to satisfy that appetite.  Racing and food enthusiast Matthew Dillner takes you behind the scenes of his race weekends and shows you to the hot-spots.

The Speedeats Schedule mainly follows the NASCAR schedule (primarily NASCAR's Sprint Cup and Nationwide Series). The site also highlights select events and other eating options in the "Side Dishes" section. Follow along with Matthew Dillner's eating expeditions.

WHO?

Matthew Dillner

Matthew Dillner is a veteran in the racing media industry and is known by many in the garage for finding some of the most interesting and yummy places to eat while on the road covering NASCAR races and Short Tracks across the country.

SPEEDEATS

ADVERTISE WITH US!

or call (704) 231-7613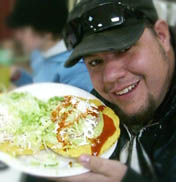 "Racing is a passion of mine.  My dad raced before I was born, I've attended races since I was a small child and have even raced some myself.  For the last 23 years I have made a living in the sport I love on the television/media side of the spectrum.

My love of food comes from my grandmother. Grandma always made great home-cooked meals and I, of course, loved them.  This birthed my passion for food but it really grew one day while I was covering a party in the Hampton's (NY) where the theme was "The Top Chefs of NY."  It was then that I realized how trying different foods and going out of your comfort zone could be exhilarating. 

Racing and Food are both a huge part of my life."  - Matthew Dillner